Professor Baron Piot joined AREF as Co-President in September 2021 to work with Professor Sir Tumani Corrah to guide our work and deliver our goals. We are very delighted to hear that Prof Piot has received a recognition of his lifetime dedication towards global health, particularly his leadership in supporting health research in Africa.
On 18 May 2023, the WHO Director-General, Dr Tedros Adhanom Ghebreyesus announced Professor Baron Piot and Professor Muyembe-Tamfum, from the Democratic Republic of the Congo (DRC), as winners of the Global Health Leaders Award. This award will be presented to them during the 76th World Health Assembly opening session, in recognition of their outstanding contributions to advancing global health, and particularly their efforts towards researching cures for, and exemplary leadership in managing Ebola Virus and HIV/AIDS.
"We will need to keep epidemic preparedness and prevention on the highest political and societal agendas, with strong national and regional public health institutions and an ever more effective and efficient, more focused, and well-funded WHO. Humankind needs WHO more than ever, obviously as the world's insurance policy against epidemic threats, but above all as a neutral convener to develop normative guidance not driven by national or commercial interests, but driven by science and commitment to equity in health. " Professor Piot during his acceptance speech.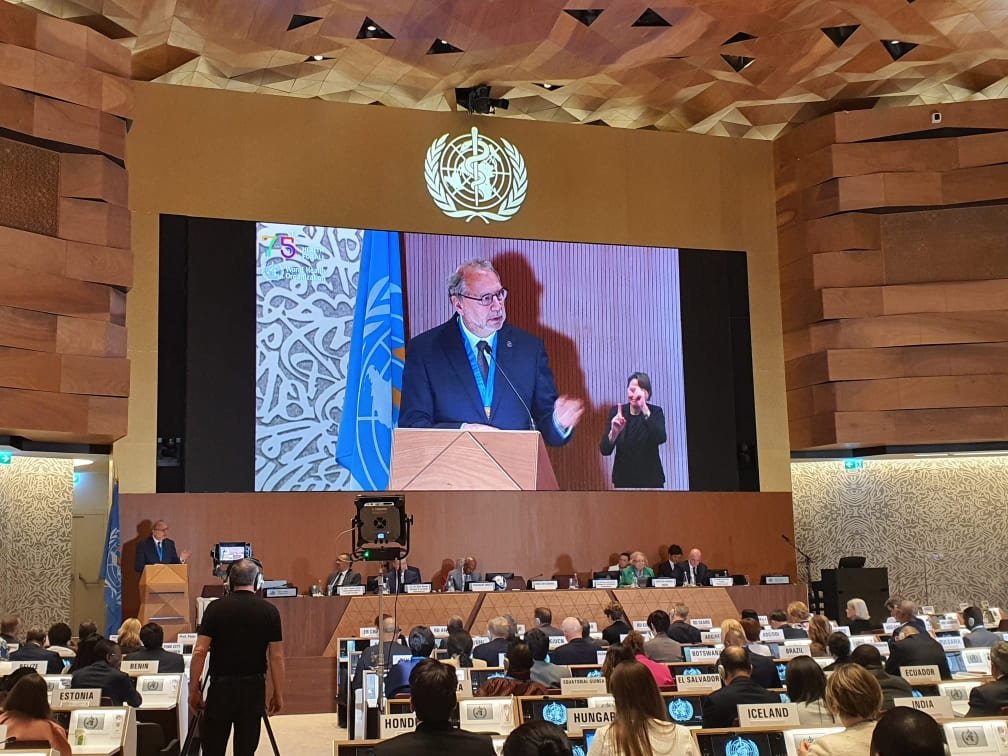 Professor Baron Peter Piot delivering his award acceptance speech at the 76th World Health Assembly in May 2023 in Geneva.
The Director-General's Global Leaders Awards was established in 2019 to honour individuals who have dedicated their lifetime to discovering solutions to global health problems. We are very proud of Prof Baron Piot for winning this well-deserved award and commend WHO for recognising his efforts and contributions towards Global Health. The WHO Director-General, Dr Tedros Adhanom Ghebreyesus presented the award at the opening ceremony of the 76th World Health Assembly held on Sunday 21 May 2023 in Geneva, Switzerland.
Prof Baron Peter has significant knowledge working in Africa, supporting science researchers to address health challenges. In 1976, Peter co-discovered the Ebola Virus in the Republic of Zaire during his time at the Institute of Tropical Medicine in Antwerp (Belgium) where he led research on HIV/AIDS and other sexually transmitted diseases in Africa.